• Eva • Lacplesene • Podcast • Podcasts • Podkāsts
Pirmā sērija ir klāt un pirmajā podkāsta Lāčplēsene sērijā pie manis viesojās tik ļoti lieliskā Eva Johansone.  Eva man ir ļoti mīļa draudzene un pazīstamas esam jau patiesībā kādus 15 gadus. Iepazināmies Latvijas Sarkanā Krusta jauniešos kā vienaudžu izglītotājas. Kopš tā laika diezgan daudz esam kopā darījušas. Man ir grūti uzskaitīt visu ko Eva ir darījusi un es  līdz galam pat nemēģināšu, jo es noteikti kaut ko sajaukšu vai aizmirsīšu. Kopumā varētu teikt, ka Eva ir ļoti iedvesmojoša un super gudra sieviete. Un līdzās viņas iekšējam un ārējam skaistumam, viņa ir tik ļoti darbspējīga, ka pilnīgi noteikti varu apgalvot, ka draudzība...
---
• Lacplesene • Podcast
I have been working on this for a while now and this week is the week when the podcast is out!The idea about podcast came gradually some time ago, and now finally it has materialized. First of all, for a while now I was pondering that I should be more socially active and responsible, beyond my designs, especially in the topic of promoting women's rights.  I understood that we should  talk about women's experiences in our society much more than we do now and podcast as a format seemed the right one.  Secondly, (also) for a while now I have...
---
• iedvesma • Lāčplēsene • Malvine lv • Podcast • Podkāsts • sievietes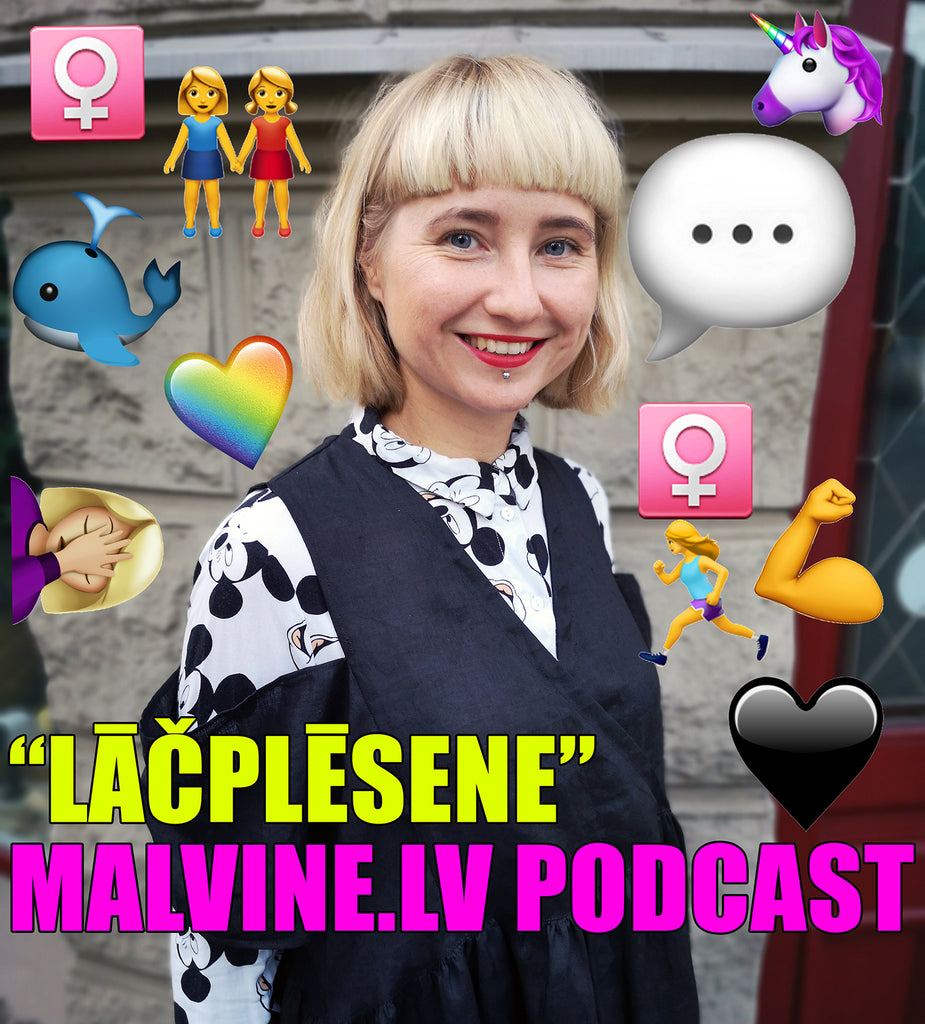 Jau kādu laiku lolots Malvine.lv podkāsts iznāk šonedēļ!  Ideja par podkāstu man radās pakāpeniski jau kādu laiku atpakaļ,  Pirmkārt, jau sen domāju, ka man vairāk, ne tikai ar dizainiem, jābūt sociāli aktīvai un atbildīgai, jo īpaši sieviešu tiesību veicināšanas ziņā. Sapratu, ka daudz vairāk jārunā par sieviešu pieredzēm un podkāsta formāts šķita vispiemērotākais.  Otrkārt, arī jau kādu laiku atpakaļ, nespēju vien beigt priecāties par to kādu dāvanu mana dzīve man piešķīrusi, un ievedusi manā dzīvē tik daudz brīnišķīgas un stipras sievietes. Nepārprotiet mani, man ir ļoti paveicies ar vīriešiem arī, bet, manuprāt, sievietes mūsdienās joprojām ir pelnījušas to ekstra mīlestību un uzmanību,...
---
• ikdienai • malvinelv • new • oversized • Pelēka • rokām šūta • spcial • STATEMENT • svētkiem
Radīju kleitu domājot par sievietēm, kuras vēlas atstāt iespaidu ar savu izskatu, vēlas justies ērti, bet tomēr vēlas arī parādīt nedaudz no sava ķermeņa. Radīt ko tādu, ko valkātāja vēlētos vilkt gan uz svētkiem, gan ikdienā. Kleitas M izmērs der valkātājai sākot ar mazu 36to izmēru, līdz pat stabilam/ lielam 42ajam. Bet, protams, vienmēr esmu priecīga uzšūt lielākas/ mazākas kleitas, ja nepieciešams
---
• COTTON DRESS • DRESS • GREY DRESS • NEW DRESS • READY TO SHIP • STATEMENT • STATEMENTDRESS • SUMMERDRESS
Creation of something new, to get out of the terrible (ha ha again) routine of life. That is how we have come to the most logical and easy part of this post - the new dress! This was one of those fresh and creative parts of the process, that I so much needed!